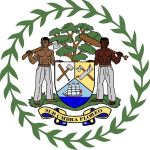 Ministry of Foreign Affairs, Foreign Trade and Immigration
The Government of Belize (GOB), through the Ministry of Foreign Affairs, Foreign Trade and Immigration (the "Ministry") has decided to conduct an Amnesty Program for irregular migrants who have been living in Belize. The Program is scheduled to begin August 2, 2022. The GOB has set aside funds to meet related expenses and has earmarked the purchase of the below listed equipment as necessary to carry out an effective amnesty program:
57 Units – Computer Specifications
57 Units – Uninterrupted Power Supply
57 Units – Web Camera
40 Units – Signature Pads
40 Units – Scanner
14 Units – File Server Hard Drives
40 Units – Copiers
20 Units – Printers
1 Year Subscription – Online Appointment System
The Ministry now invites tenders (aka bids) for the supply of the above listed equipment. Bidding for the equipment is to be made by lot(s) or the entire package. Interested tenderers can obtain the specifications for the equipment from the Chief Executive Officer in charge of Immigration at Tel: 822-3860 or by email ceo@immigration.gov.bz from 8:00 am to 4:00 pm Mondays to Thursdays and 8:00 am to 3:30 pm on Fridays. The deadline for clarifications is May 5 at 4:00 pm. The deadline to submit tenders is May 11 at 4:00 pm. Sealed bids are to be delivered to the Ministry at Mountain View Boulevard, Belmopan City, Cayo District. Late bids will be rejected and returned unopened.
The requisite to participate in this bidding includes, but is not limited to, the presentation of Certificates of Good Standing from the Belize Companies Registry, the Belize Tax Service and the Belize Social Security Board or proof of Incorporation and Financial Audited Statements for the last 3 years.
This advertisement can also be seen on the CARICOM Community Public Procurement Notice Board at https://blz.caricom.org and the Ministry of Immigration's web page at https://immigration.gov.bz .
Ministry of Foreign Affairs, Foreign Trade, and Immigration
Address: Mountain View Boulevard, Belmopan City, Cayo District
Tel: 822-3860
Email: ceo@immigration.gov.bz