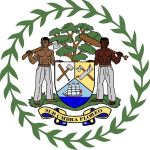 Ministry of Foreign Affairs, Foreign Trade and Immigration
Please be informed that the Department of Border Management & Immigration Services, the Department of Refugees and the Department of Nationality & Passports of the Ministry of Foreign affairs, Foreign Trade & Immigration located on Mountain View Boulevard, Belmopan City will be temporarily closed for sanitization on Tuesday 11th January 2022 and Wednesday 12th January 2022.
The office will re-open on Thursday 13th January 2022, at 8:00 am as per normal.
Sorry for any inconvenience caused.
Thank you.
Chief Executive Officer
Ministry of Foreign Affairs, Foreign Trade and Immigration
10th January 2022