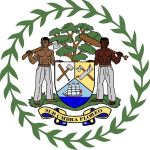 Ministry of Foreign Affairs, Foreign Trade and Immigration
The Nationality and Passports Department and Border Management and Immigration Services hereby informs that the cashier in Belmopan will be closed at 12 noon on Thursday March 31st, 2022, in connection with the closure of the financial year 2021/2022.
Please note the cashier will resume operations at normal working hours @ 8:00 am on
Friday April 1, 2022.
Please be reminded that the office will be available for customer inquiries and any other non-cashier-related matters.
We apologize for any inconveniences caused.
Thank you.
Chief Executive Officer
Ministry of Foreign Affairs, Foreign Trade and Immigration
30th March 2022